New £57m Oxford Old Road medical labs to go ahead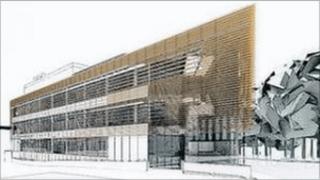 Plans for two medical research buildings costing a total of £57m have been approved by Oxford City Council.
The University of Oxford wants to demolish four existing buildings near the Nuffield Hospital on Old Road.
On the site they will build the new Nuffield Department of Medicine and the Kennedy Institute.
A report which went to the council's planning committee said the proposal represented "an efficient use of existing land designated for research".
However, Patrick Coulter, from the Highfield Residents Association, opposed the planning application at the East Area Committee meeting on Wednesday.
He said: "Old Road is a residential street and this is very big and bulky building and we feel it needed to be designed in a much more sympathetic way."
Labour county councillor for the area Liz Brighouse said she was concerned about the extra traffic the development would cause.
She said: "Old Road is the only access to the site and it was built for horse and cart.
"People will come to this area and park everywhere they can."
Leading research
Planning officers recommended that the university should contribute £218,000 towards the transport infrastructure to ensure adequate local access.
They proposed money could be spent on controlled parking zones and improvements to walking, cycling and bus access.
A spokesman for Oxford University said the Old Road Campus was ideally situated near to the Churchill Hospital and other world-leading research institutions.
He added: "These buildings will directly benefit the treatment of local patients and might allow some to take part in trials for new treatments."