Care home fees frozen by Oxfordshire County Council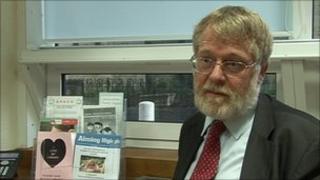 The amount of money paid for care home places in Oxfordshire has been frozen by the county council.
The £350 paid this year is £30 lower than the amount the council paid in 2006 to cover people's basic needs.
John Dixon, head of adult social care, explained however, the authority had paid more, relative to other councils, for the last 10 years.
But George Tuthill, chair of Oxfordshire Care Homes Association, said the fees would not cover costs.
Care homes in the county were only able to keep going because they had a mix of privately and publicly-funded places, Mr Tuthill explained.
"In Oxfordshire there's a high proportion of people who are privately funded and in some cases they are making up the shortfall from the inadequate local authority fees," he said.
'£200 short'
John Langridge, manager of Green Pastures home in Banbury, said that being a not-for-profit charity care home it was getting increasingly difficult to make ends meet.
He said: "We set a fee every year which we think will allow us to break even.
"Six years ago the local authority fee met our fee almost exactly but now the difference between what the local authority are prepared to pay and what we need is short by £200 a week."
The authority currently pays for 1439 elderly people to be looked after in private homes which is around a third of all care home places in Oxfordshire.
"If we pay more than is necessary for one person the next person may not get the care that they need or any care at all," said Mr Langridge.