Peru drug accused Alan Rae criticises FCO for inaction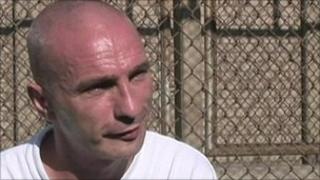 A man who spent more than two years in a Peruvian jail before being acquitted of drug smuggling believes UK consular staff did nothing to help him.
Alan Rae, 40, was arrested in 2009 and given a 14-year sentence for drug smuggling but was acquitted on appeal.
Since June Mr Rae, from Faringdon, Oxfordshire, spent eight weeks getting the paperwork to leave the country.
A spokesman for the Foreign and Commonwealth Office (FCO) said they had provided help and guidance.
But Mr Rae said his 18-year-old daughter, Amy, had to spend the money she was saving for her wedding to fly him home at the end of July.
He said: "When you're outside [prison] they don't help you one little bit."
Inmates with knives
Whilst in prison Mr Rae had received quarterly visits from British consular staff and on each occasion he received the equivalent of £90 from the charity Prisoners Abroad.
He said: "If you haven't got money for a bed you sleep in the corridor on a mattress - you share mattresses."
During his 25 months in the Peruvian prison, which he described as a "zoo", he said he witnessed a number of riots and inmates with knives controlling the blocks.
The FCO said they had provided consular assistance to Mr Rae throughout his detention and upon his release.
But a spokesman added: "Consular staff do not routinely meet detainees upon their release from prison, nor can we provide financial assistance for flights home.
"We remain in contact with Alan now he is back in the UK to resolve any ongoing concerns."