St James' Church in Bix has bell stolen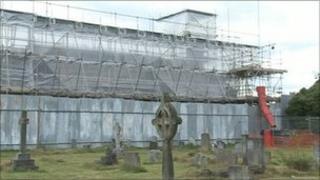 A south Oxfordshire church has had one of its bells stolen during restoration work.
Thieves removed the 68kg (150lbs), 0.6m (2ft) high bell from the tower of St James' Church in the village of Bix on Tuesday or Wednesday evening.
They were able to steal it by climbing scaffolding erected for restoration work at the church.
The Reverend Brendan Bailey said: "There must have been about four of them simply because of the weight."
It will cost the church about £4,000 to replace the bell, in addition to the £250,000 it has already committed to restoration work.
'Big problem'
Mr Bailey said the theft was "tremendously sad".
He appealed to the thieves for the safe return of the bell, which had been purpose-built for the church when it was constructed in 1870.
"It's always going to be something that is very unfortunate for any church and particularly things like bells which have a particular significance for the church community," he said.
Richard Truman, from the British Metal Recycling Association, said: "Metal theft is a big problem for us at the moment.
"Every time metal's global prices go up, the theft of metals goes up with it and then things like church bells, which are really important to the community, can be stolen too."