Three friends attempt to cycle from Chadlington to Rome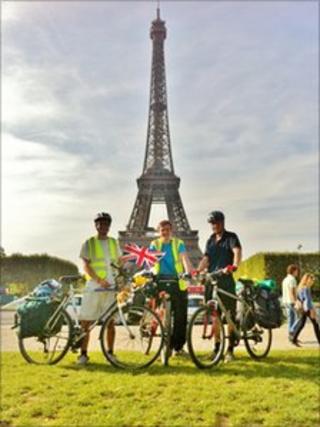 Three school friends from Chadlington in Oxfordshire are attempting to cycle to Rome for charity.
William Ingram, 19, Conrad Godfrey, 18, and Hallam Duckworth, 18, hope to complete the 1,200-mile journey to the Italian capital in about 20 days.
Last year they cycled to Paris, and raised more than £1,500 for the DEC Pakistan Flood Campaign.
This year they are want to go further and raise more. "Anything closer just wouldn't cut it," said Mr Ingram.
He added: "Rome is five times further. We hope to raise considerably more this time, with a target of five times as much."
They set off from Chadlington on 27 August and will travel across the Jura and Alpine mountain ranges.
But the biggest challenge they face will be the clock.
Mr Ingram said: "We need to get to Rome for the [rail] connection home, and so there is potential of not getting home at all if we don't hurry."
The money they raise will go to the Oxford children's hospice Helen & Douglas House, and to the DEC East Africa Crisis Appeal.