Oxford sees violence as London disorder spreads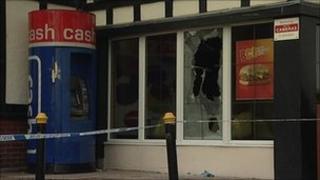 Violence has broken out in Oxford as rioting and disorder in London spread to other English cities.
A McDonald's restaurant in London Road, Headington, was set alight and a 26-year-old man arrested.
A car was also set alight in Barton in the early hours. The number of officers on streets has been stepped up.
Thames Valley Police said there were many rumours on social networking sites about riots in the area, some of which were "untrue or greatly exaggerated".
Deputy Chief Constable Francis Habgood said: "However, there has been some disorder across the force area.
'Distress and anxiety'
"These are copy-cat incidents of those that have been happening in London, although involving far fewer people.
"Obviously, we are aware that these incidents, and the images people will have seen from the problems in London and other areas of the country, will be causing distress and anxiety.
"You may notice an increase in the number of police officers in your area at this time and this should not cause alarm.
"These officers are there to provide reassurance and tackle any criminal activity that may occur."
He also appealed to residents to contact police about any "suspicious looking gatherings" of people.
Businesses have been advised to take precautionary measures overnight including ensuring that CCTV is in operation, expensive goods are removed from display and to limit the cash kept on premises.
Thames Valley Police has set up a Twitter feed to keep communities in the Oxford area updated.
About 20 officers from the force have been deployed to London to support the Metropolitan Police.
The capital has seen three nights of violence which started after police shot a man dead in Tottenham.
The force was also called to small outbreaks of disorder in Reading overnight.