Two Oxfordshire coaches break tennis match record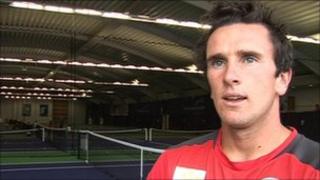 Two Oxfordshire tennis coaches have successfully finished their 72-hour record-breaking attempt for the longest continuous singles match.
Andy Aitken and Ryan Trickey had already broken the existing 61-hour record, set in the US in March this year, at 22:00 BST on Wednesday.
They were in the 97th set at Abingdon's White Horse Leisure and Tennis Centre when they finished at 09:00 BST.
Mr Trickey said: "We're tired but happy we've completed the challenge."
Tim Henman support
He added: "The toughest part was the four to seven stint this morning.
"In the dark overnight we went through a couple of lulls where we were really struggling to the point we were questioning whether we were going to carry on.
"We've set the bar pretty high though so hopefully, if it is verified by Guinness World Records, it will stand for a fair while."
Former tennis star Tim Henman had been supporting the attempt and was following it on Twitter.
The attempt was made in support of the Dan Maskell Tennis Trust, a charity that raises funds for people with disabilities.