James Bond designer Daniel Kleinman criticises Bicester eco-town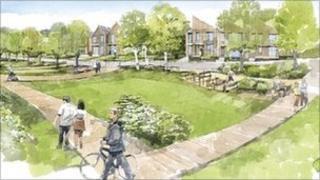 A music video director said a decision to grant planning permission to an eco-town in Oxfordshire was "ludicrous".
On Thursday, Cherwell District Council approved proposals for 393 homes at the NW Bicester Eco development.
Bicester resident Daniel Kleinman who made title sequences for five Bond films called it a very sad day for the town.
But Ian Inshaw from P3Eco, the company behind the development, said Bicester was a "focus for regeneration".
Proposals are still subject to a legal agreement between developers P3Eco and A2Dominion, and the Conservative-run Cherwell district and Oxford county councils.
An application for a further 5,000 homes is expected in early 2012.
Building work could also begin the same year.
The developers had made changes to its plans when an initial consultation was met with criticism from experts.
'Inappropriate land'
Mr Kleinman, who lives nearby the new development, is known for his work on the iconic title sequences on a series of James Bond films from GoldenEye to Casino Royale.
He criticised developers for not ensuring the right level of infrastructure.
He said: "They're trying to cram in as many houses so they can cash in and make as much money as quickly as possible.
"It's likely to be a marooned little island of dense housing."
Also approved are plans for a school, nursery, pub, shops, community centre and office accommodation.
However, architect Sir Terry Farrell said the project would "kick-start a much larger initiative to transform Bicester into the UK's first eco-town."
Mr Inshaw, the chairman of P3Eco (Bicester Ltd), added: "This will incorporate all of our sustainable targets including the need to ensure that the right mix of employment is achieved and that the habitat within and outside the scheme is improved."
During the debate councillor Debbie Pickford, lead member for housing, said plans were also afoot for an eco-construction company to set up a factory in Bicester on a site recently vacated by Oxfam.