Oxford United donates football kit to Fijian school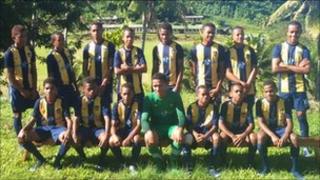 Oxford United Football Club has donated kit to a Fijian school football team.
It was the idea of Alex Murray, 19, who visited Saqani High School on Vanua Levu, the second largest island of Fiji, as part of a summer charity project.
He was asked to bring a shirt for one of the children but approached the club who donated kit used by one of the club's academy teams last season.
Mr Murray said the school was "overwhelmed" by the gift.
He added: "They have a football team and a rugby team, but just play in different coloured shirts, so they were delighted to have their own kit to play in."
Oxford United chairman Kelvin Thomas said: "We were very happy to help out and donate the children's kits to the youngsters in Fiji.
"We heard they were ecstatic to be wearing almost new Oxford United shirts, shorts and socks and hopefully we have picked up some new fans in the South Pacific."