Oxford's 'awful' Barton pavilion replaced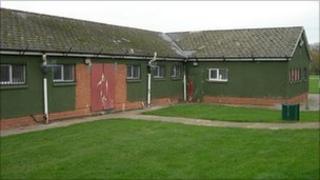 A sports pavilion once described by a community figure as "absolutely awful" has been replaced by a new £352,000 building.
The previous pavilion in Barton, Oxford, contained asbestos and was "dreadful", according to Sue Holden of the local community association.
Councillor Mark Lygo said the new building was "a true testament to Oxford City Council's commitment to sport in the city".
Barton Pavilion opens on 28 August.
It was approved in April but had been proposed for nearly a decade.
Mr Lygo, who is the board member for sports and parks, added: "This brand new facility is ahead of the game when it comes to sports pavilions and is a great addition to Barton and the surrounding areas."
Don Light, chairman of the Phoenix Association, a sports group in the area, said the new grounds would benefit Barton United FC and Headington Amateurs FC in the new football season.
It is located on the edge of Barton Estate, which has more than 4,000 residents.