Oxfordshire youth workers on strike over job cuts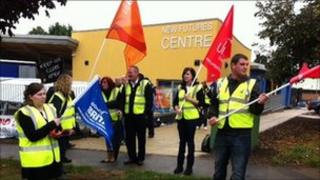 Youth workers across Oxfordshire have gone on strike over public sector spending cuts.
They are campaigning against a new Early Intervention Service, created by merging the Youth Service and several other independent operations.
The Conservative-run county council said it would save about £4m but the Unite union said it could lead to the loss of 80 youth workers.
Discussions are being held over the future of four youth centres.
But 13 will continue to receive council funding and nine others will remain open with money from a Big Society fund set up by the council.
Deputy director of Early Intervention Service, Jan Paine, said while funding for youth services had been reduced, the new service should be given a chance when it comes into force on 1 September.
'Absolute nonsense'
Ms Paine added that Big Society funding would only last for a year but the council only supported projects that were "viable to continue in the longer term".
Mike Beal, youth worker and chair of the Oxfordshire branch of Unite, called it "absolute nonsense".
Speaking on the picket line in Banbury, he told the BBC: "You can't cut a budget from £3.7m to £1.4m and then expect the remaining service to get money from elsewhere. Where is the elsewhere?"
The union said all youth centres in the county were closed on Tuesday as a result of the strike action.
However, a council spokesman said this was not the case and that the impact had been "very minimal".