Wychwood CE Primary School's confiscated milk crates replaced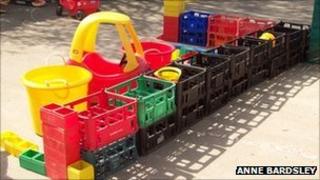 A dairy food company that confiscated milk crates used at play times at an Oxfordshire school has supplied funding for specially designed replacements.
Lyndsey Anderson from Dairy Crest apologised for a lack of communication when a milkman removed the company's crates due to safety concerns.
She also hoped the new ones would give enjoyment for "many years to come."
Anne Bardsley, a teacher at Wychwood CE Primary School, said she was "absolutely thrilled."
She told the BBC she was speechless when the original crates were removed in March.
She said: "They just disappeared one day. We had them for years and the children loved playing with them and then they were gone.
"We never had any major incidents on the crates. The children are always supervised and often we'd play with them.
"They really get an understanding of a sense of space and manipulating large objects which is really good for their mental, physical and creative development."
Ms Bardsley has now sourced a new set of play crates from another supplier.
When she contacted Dairy Crest about contributing towards the cost the company agreed to pay the entire amount.
'Specific purpose'
Ms Anderson, corporate communications manager at the company, said the school had been happy to accept its apology.
"We believe that milk crates should only be used for the specific purpose of delivering milk and do not supply them for other uses.
"This is a company policy based on our own safety guidelines."
Ms Bardsley admitted she sympathised with the company's decision.
"However sensible and rational I might be about it, there might be somebody out there whose child is injured by something with a Dairy Crest logo on it who might decide to sue them," she said.