Second Boer War letter sold for £1,500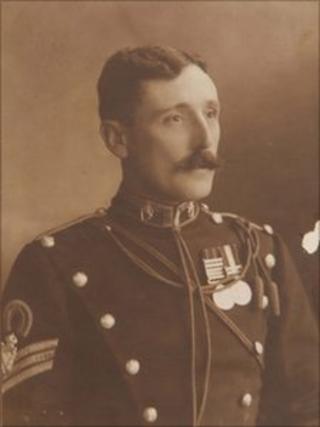 A 42-page letter written by a British sergeant to his father during the Second Boer War has been sold in an Oxfordshire auction for £1,500.
William Smith wrote the account of the Siege of Ladysmith from 1899 to 1900.
Philip Smith, from Mallams the Auctioneers, called it an "amazing document" that "takes you right through the emotions".
The collection, including photos, a knife and a tin of uneaten chocolates, was bought by a phone bidder.
Smith's granddaughter, from Sutton Courtney, Oxfordshire, called it an "important collection that doesn't deserve to live in a box in my attic".
Cathy, who did not want her full name to be used, said: "I've been carrying this stuff around in boxes since my mother died 25 years ago.
"I occasionally look at them as I move house and I thought these are very precious."
'Awful sight'
Smith was a farrier sergeant in the 5th Royal Lancers.
He took part in the siege at Natal, a former British colony in South Africa.
On 7 November 1899 he wrote: "Yesterday evening the Manchesters lost a lot of men.
"I went up on the hill this afternoon its was a awful sight, English and Boer's laying about in little heaps, one place only about 30 yards square 42 Boers lay slaughtered by scrapnel [sic]."
The last entry was written on the final day of the siege on 28 February 1900.
He wrote: "At last we have been watching the Boers in full retreat all this afternoon thousands & thousands of them for 4 solid hours, one continual stream of wagons, they are a bit too far out for our Naval Guns too [sic] reach them and our horses and men are too weak to go after them.
"If we only had a Brigade each of Cavalry and artillery fit we could give a good parting gift."
Speaking about her grandfather, Cathy said: "He was a man of his time but actually was very forward thinking and very practical.
"One of the wonderful things about the letters is the tone that he uses to his father."
Smith survived the war and later took over his father's china and glass repairing business in Marylebone.
He died in 1939 aged 70.
Philip Smith, from Mallams the Auctioneers, called the letter an "amazing document of the last year's of Queen Victoria's reign".
"Some of the descriptions of fighting these Boers is extraordinary and takes you right through the emotions," he said.