Compulsory purchase order for Bicester redevelopment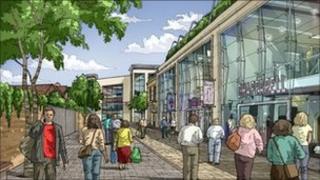 A compulsory purchase order (CPO) needed to push through an Oxfordshire town's redevelopment plan has been authorised.
The decision by The Secretary of State for Communities and Local Government means a £70m scheme in Bicester can start in the new year.
The plans to build a supermarket, cinema, retail units and a car park had stalled due to local objections.
But developers now hope it can be completed sometime in 2013.
Boots landlord HPUT is only remaining objector to the development after Tesco withdrew its objection during a public inquiry.
A council spokesman said negotiations with HPUT continued but its objections would not be a barrier to the success of the scheme.
'Much-needed development'
Cherwell District Councillor Norman Bolster said: "Bringing the town centre redevelopment together has been an extremely complicated process and I know people have been frustrated that it has taken so long to reach this stage.
"But the secretary of state's announcement means that we can push ahead with this much-needed development."
The redevelopment of the area to the rear of Sheep St, and east of Manorsfield Road was initially granted planning permission in 2009.
Revised plans were subsequently approved in 2010 and some preliminary work has already been completed.
Much of the site is currently a car park but eventually there will be a large Sainsbury's, a seven screen cinema, a range of further shops and restaurants, a multi-storey car park with 560 spaces and replacement bus stops.
At a later phase Cherwell District Council is planning to build a new civic building at the northern end of the site to include a new public library.