New repatriation centre at RAF Brize Norton completed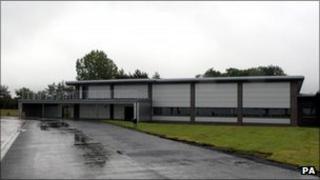 Final rehearsals of a purpose-built repatriation centre and memorial garden at RAF Brize Norton in Oxfordshire have been completed.
The bodies of service personnel will be repatriated into the base from 1 September.
Repatriations previously went through RAF Lyneham but it is due to close.
The senior chaplain, the Rev Wing Cdr David Edgar, said the bespoke centre had facilities for families to spend time with their loved ones.
He added: "It's very important to all military people that our fallen are paid due dignity and respect on their return to the country, everybody here is very keen to make sure that takes place in the best way possible."
Work started on the £2.8m centre in January. It can accommodate a repatriation of up to eight coffins and support seven family members in each case.
Currently the bodies of the repatriated personnel are carried in hearses through the town of Wootton Basset, Wiltshire, to hospital in Oxford.
Residents of the town famously line the streets to pay tribute.
Corteges leaving the Oxfordshire base will avoid the local town of Carterton, but a memorial garden at Norton Way near RAF Brize Norton has been built as part of plans to create a similar tribute along the route the hearses will follow.
The memorial garden has been created by Oxfordshire County Council, West Oxfordshire District Council, Carterton Town Council, Brize Norton Parish Council and the Royal British Legion who are also raising £18,000 for a 644lb (292kg) bell to be placed in the garden.