Invasive plant carpets River Ray in Islip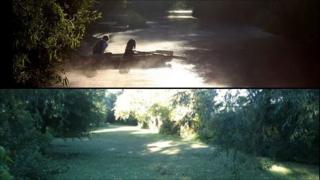 Environment Agency officials have pledged action over an invasive water plant that has covered a stretch of a river in an Oxfordshire village.
Islip residents met agency officials on Tuesday to discuss how to control the floating water fern azolla filiculoides in the River Ray.
A spokesman for the agency said it would conduct a fisheries survey and if necessary remove the weed.
The aquatic plant, from North and South America, can damage local ecosystems.
According to agency guidelines, clearing this type of weed is normally the responsibility of individuals living along the river.
However, it does intervene on occasions where there is a significant risk to fish and other wildlife.
The Centre for Agricultural Biosciences International lists the fern as presently one of the most invasive plants in the UK.
On its website it said: "The mats that form on the water's surface can be 30cm (11.8in) thick and during hot weather, can double in size in just four or five days."