Fixers: BBC Introducing in Oxford's Band of the Year 2011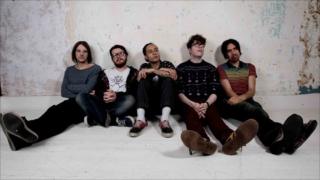 Fixers have been announced as BBC Introducing in Oxford's Band of the Year 2011.
The Oxford band made their radio debut on BBC Radio Oxford's local music show in August 2009.
Two years on they headlined the BBC Introducing stage at the Reading and Leeds Festivals.
Lead singer and keyboard player Jack Goldstein told the BBC: "It's incredible to have Band of the Year bestowed upon us.
"I don't think there's ever any chance of us living up to that."
Fixers' latest single Swimmhaus Johannesburg was released on Vertigo Records and has been playlisted by BBC Radio 1.
The disco-stylings of the brand new track surprised fans who had become used to the band's 60s pop leanings and devotion to the Beach Boys.
Jack said: "I don't think it's a new direction, it was just showing a new side.
"We stunned a lot of people because we came out with a straight out dance song.
"We were listening to a lot of 90s dance music and Japanese pop and that's what we put in the song.
"But we've just finished a bunch of recordings and they sound completely and utterly different to Swimmhaus.
"I'm excited to see what people think. That's what we're trying to cement ourselves as, a band that does different kinds of music."
'Beautiful video'
The single is also accompanied by the band's most traditional music video so far, in contrast to previous release Crystals which consisted of psychedelic colours, band close ups and a twirling banana.
The Swimmhaus Johannesburg video was directed by Lucy Bridger and inspired by the works of Japanese author Haruki Murakami.
Jack reluctantly agreed to star in the promo though the rest of the band declined to appear.
Jack said: "If you look at it there's a beautiful, beautiful Japanese girl juxtaposed with me.
"It's so obtuse. Why am I there? One day I'll get Lucy to do a director's cut where I'm on the cutting room floor because it'll look so much better.
"It's such a beautiful video but then all of a sudden I pop up and it's like, 'Good God, what is that?'"
Despite the reservations of his own on screen involvement, Jack fully embraced the video's concept.
"We talked about it for a long, long time and the whole aesthetic of it was so strong that I loved it," he said.
"We saw a lot of treatments but her treatments flung out to us and we thought they were great."
The single's release comes off the back of an eventful Summer of live appearances.
In addition to the Reading and Leeds Festivals Fixers supported Noah and the Whale at London's iTunes Festival.
They also stole the show at Truck Festival in Steventon.
Jack wore a hat, sunglasses and large beard for the entire gig.
"I got to a point in the set when I thought this is no longer fancy dress, this is just make belief.
"Ever since I was a kid I've wanted a big, massive Unabomber/Charles Manson beard.
"It's something I find really empowering and for me it's something for me to hide behind.
"I think that's why I was so nonchalant and confident at that show. I was hiding.
"I wasn't trying to ostracise anyone but I just felt if I was more relaxed everyone else would be more relaxed, so maybe it kind of worked."
Fixers' fans include Radio 1 DJ Huw Stephens who said: "They're a very exciting band and it's been great to see them grow and take on the world after the initial support of BBC Introducing in Oxford."
September will see the band play the Shepherd's Bush Empire and the Reeperbahn Festival in Germany.
The possibility of an Oxford show in October has also been mooted but Jack remains tight-lipped on future music releases.
"I don't like killing mysticism," he explained.
"When I was a kid and went into a shop and heard a song I thought there were musicians upstairs playing.
"I just like the naiveté… so I don't want to kill any mysticism or romanticism that goes with putting music out."
Listen to BBC Introducing in Oxford's special podcast which looks back on the last two years with Fixers.