David Cameron drives two millionth Mini off the Oxford production line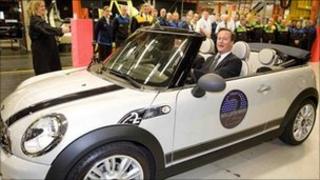 David Cameron has driven the two millionth Mini off the production line at the Cowley plant in Oxford.
It is 10 years since the German parent company BMW revived the marque and production started in the city.
Currently around 3,700 employees work five days a week on two shifts to produce as many as 900 Minis per day - one every 68 seconds.
More than 1.5m of the Minis produced have been exported to customers in more than 90 countries around the world.
The specially painted white-silver metallic Mini Convertible driven by Mr Cameron is now going to be made available as a prize to be given away by the company on Facebook.
'Enormous success'
Before driving the special Mini, the prime minister said: "There are lots of great things you get to do as prime minister, but one of those things you don't get to do is drive a car.
"For over a year now, I haven't driven a car, so I can't tell you what pleasure it's going to give me to get into the two millionth Mini."
He then told workers: "It's a remarkable story, to take that iconic British brand, to give it this great modernisation and then to produce version after version.
"It has had enormous success all over the world. It is a fantastic success story."
In May a union representative at the Oxford plant said the earthquake in Japan had affected orders which meant that there had been a dip in demand for the car.
But in June BMW announced a plan to invest £500m in UK car production over the next three years.
The Oxford plant currently produces four Mini models - Hatchback, Convertible, Clubman and the new Mini Coupé.
The Roadster model will go into production at the end of this year.