RAF Brize Norton: Flag ceremony marks repatriations move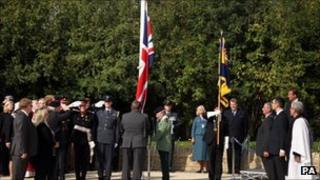 As the union jack was handed over, the roar of military transport planes taking off and landing continued overhead.
Among the sombre gathering it was known that sooner or later one of those planes was likely to bring home the body of a British soldier killed abroad.
Wootton Bassett became strongly linked with those homecomings as ex-servicemen, families and local people lined the streets when bodies of dead personnel were driven through the town near RAF Lyneham in Wiltshire.
Now the process of military repatriations has been handed over to RAF Brize Norton in Oxfordshire, along with the union jack flag that was used in ceremonies at Wootton Bassett.
Prime Minister David Cameron, along with other dignitaries, military personnel, local families and ex-servicemen had all gathered for the handover.
Some of those gathered in the September sunshine had taken part in the spontaneous ceremonies which evolved in Wootton Bassett and along the route to the John Radcliffe Hospital in Oxford.
They will now have a new focal point, the memorial gardens created between RAF Brize Norton and the nearby town of Carterton.
Bill Walsh, 83, from the Wantage Royal Naval Association, said he was asked by his grandson why he did it.
He replied simply, "Duty, honour and respect."
Ashley Star, 69, standard bearer for Faringdon British Legion said: "It might be miserable and wet, but you have to think, those brave soldiers passing by can't feel the cold any more."
About 200 spectators turned out to witness the ceremony.
Catherine Stephens, from Carterton, took her two young sons Henry and Benjamin to see the occasion because it was "important to come along to be part of it and to understand what it meant".
Also watching the ceremony was Steve Radband, 49, repatriation officer with the Royal British Legion. Next week he will take up his new role as the facilities at RAF Brize Norton are used for the first time.
Mr Radband's task is an unenviable one, made all the more difficult by the fact his own son is currently on his third tour of Afghanistan.
"It is difficult, especially when you know your own son is out there.
"Wootton Bassett has done a fantastic job, and it is not a case of trying to outdo them, our aim is simply to focus on the families and make sure it is right for them."
Nevertheless, the tributes led by Wootton Bassett's residents are something many want to preserve.
Dr Peter Caddick-Adams, military historian said: "The impact of Wootton Bassett will reinforce the desire of the people to come and pay their respects.
"We know relatives and friends find it hugely comforting."
As the dignitaries left and the coaches took the visitors from Wootton Bassett back to Wiltshire, this part of rural Oxfordshire was now inextricably linked to the repatriation process and honouring the fallen.