Coloureds headline electro-themed Upstairs at the O2 Academy gig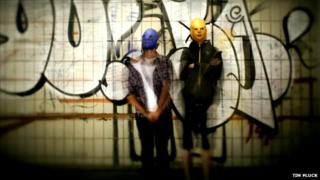 Electro duo Coloureds will headline the next Upstairs at the O2 Academy Oxford gig in association with BBC Introducing.
The band's sound, once described by Nightshift music magazine as akin to a closing-time punch-up involving a drunk Cyberman, sets the tone for an electro-themed evening on 24 September.
Coloureds' Nick Brewer said he was honoured but nervous to top a bill including Keyboard Choir, Grudle Bay Riots, We Are Ugly (But We Have The Music) and Tiger Mendoza.
He added: "It's always a tricky one to make what is merely two guys behind a table of computers and electronics feel like a big headline-worthy act, even in the smaller venues around the country and so at a place like the O2, we're going to have to work twice as hard.
"Not to mention the fact that it's such a fantastic line-up. They are going to be some tough acts to follow."
'Something crazy'
The synth sound-loving duo are as renowned for their chunky beats as for the colourful rubber masks they wear on stage.
Nick wears the blue mask whilst partner in crime Matt Mooney opts for yellow.
Nick said: "We always fancied bringing some additonal theatrical elements to this act.
"We don't have much chance during our live show to throw ourselves around the stage; our feet dance away in our designated areas behind the rig, while our fingers twiddle knobs and push buttons, so it seemed only right to give our faces something to do too.
"I've always had a thing for building costume and props with liquid-latex, so we decided to create some masks for the act. Of course, we always hope the crowd are too busy dancing to be looking up at us, but if they do, at least they'll see something a bit crazy."
Tracks from Coloureds' latest release, the Tom Hanks EP, have been played on BBC Radio 1 and BBC 6Music.
The EP's cover is adorned with a not altogether life like image of the Hollywood actor, inspired by the famous keyboard-dancing scene from 1988 body swap movie Big.
"Everyone is a fan of Tom Hanks," Nick explained.
First airplay
Sebastian Reynolds from Keyboard Choir said their set would include special guests and new material.
The six-piece create their songs using only keyboards, samplers and drum machines.
"Having played some great gigs at the old Zodiac and the Academy over the years we are thrilled to be back there," he said.
Grudle Bay Riots also have six members, including former Winchell Riots' lead guitarist Nathan Allsworth.
Describing themselves as 'electro-acoustic', the band aim to make their sounds without the aid of computers.
The bill is topped off by We Are Ugly (But We Have The Music), a one-man techno act fronted by Fred Toon, and Tiger Mendoza, who received their first airplay via BBC Introducing in Oxford in January.
Every month a selection of local talent plays the regular band nights at the O2 Academy, with highlights featured on BBC Radio Oxford's Introducing programme.