Woman flees Oxfordshire arson attack cottage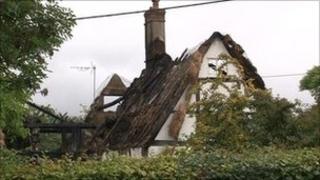 A woman had to flee her Oxfordshire cottage after a suspected arson attack on a neighbouring workshop.
Firefighters were called to Eynsham Road, Sutton, near Witney, in the early hours of Saturday where a workshop containing a gas cylinder was alight.
The fire also spread to the thatched cottage, which was severely damaged.
About 70 firefighters were at the scene at the height of the blaze. Police said a 35-year-old man was arrested on suspicion of arson.
Oxfordshire Fire and Rescue Service group manager James Crapper said: "The initial crews were faced with a difficult situation with a hazardous LPG cylinder involved in the workshop and a fire that was quickly spreading through the thatch of a nearby house."
He said both buildings were severely damaged but some items of value were rescued by firefighters.
Thames Valley Police is appealing for information.