Henley Bridge undergoes £200,000 repairs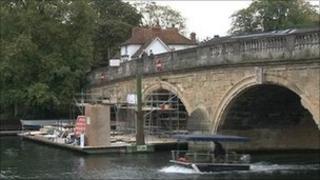 Repairs costing £200,000 are taking place at an 18th Century Grade I listed bridge in Oxfordshire.
The work on Henley Bridge, Henley-on-Thames, will replace limestone blocks damaged by boats.
Rodney Rose, cabinet member for transport at Oxfordshire County Council, said the work would strengthen the bridge for years to come.
The work is expected to finish in November. The road over the bridge will remain open throughout.
Mr Rose added: "Inevitably the project will temporarily detract from the appearance of the bridge and create some noise and dust, which will be kept to a minimum as far as possible.
"It's hugely important to ensure treasured landmarks such as Henley Bridge receive due care and attention."