Horton General Hospital changes gynaecology services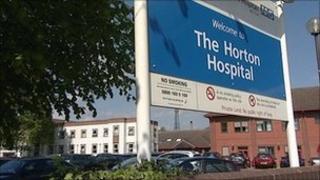 A Banbury hospital has said it will expand its gynaecology services.
A dedicated surgery and diagnostic service will be provided on weekdays at Horton General Hospital.
The Oxford Radcliffe Hospitals NHS Trust said it meant fewer women would have to travel to the John Radcliffe Hospital in Oxford for treatment.
But a document handed to the BBC from staff on the gynaecology ward said the changes would lead to a reduction in jobs and pose a risk to patient safety.
"Just providing all-day surgery will limit the skills and experience of surgeons and nurses and in return reduce the service that can be offered," it read.
'Less invasive'
However, Professor Stephen Kennedy, clinical director for women's services at Oxford Radcliffe Hospitals NHS Trust, said: "This will bring services at the Horton into line with those provided at the John Radcliffe Hospital in Oxford.
"We expect to see more patients being treated at the Horton in Banbury as a result of these changes.
"Many gynaecology procedures that used to require a patient to stay overnight, these days are done by far less invasive techniques and are therefore done as day procedures."
Currently patients with other conditions regularly occupy up to 60% of the 12-bed gynaecology ward at the hospital.
With fewer women expected to stay overnight under the new system the beds will be reduced from 12 to around 6 and relocated onto the general surgical ward.
There will also be more specialist clinics for women with menstrual or bladder problems or issues during the early stages of pregnancy.
Debbie Pearman from the Royal College of Nursing in Oxfordshire said gynaecology patients would find themselves competing with other patients.
"They won't have the facilities they had in the other ward and they will lose the dedicated team of gynae nurses to look after them," she said.
The document from the Horton staff calls the staff numbers involved "inadequate".
"The potential for this to lead to unsafe and poor practice is high," it said.
A health scrutiny meeting next week will decide whether there should be a public consultation.
If not the changes are expected to be rolled out over the coming weeks.