Sgt Barry Weston repatriation: Crowds line Brize Norton route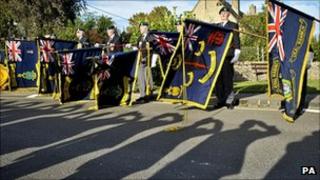 By the time the sunshine broke through the dark clouds, the cortege had come to a standstill outside the memorial garden on the edge of Brize Norton.
More than 2,000 people had turned out to pay their respects to Sgt Barry Weston.
His widow wept as she stood holding the youngest of his three daughters while his colleagues from 42 Commando Royal Marine lowered standards adorned with black ribbons.
A member of the family stepped forward and tied a football shirt of the team Sgt Weston played for as a youngster to the hearse.
They left to a spontaneous round of applause.
'Just dreadful'
A new £2.8m purpose-built centre at RAF Brize Norton has taken over the duties of repatriating fallen soldiers from RAF Lyneham in Wiltshire.
Among the hundreds of people lining the cortege route was Ken Cushen, 80. He served with the Royal Engineers for 23 years, and had been going to Wootton Basset from his home in Dorchester, Dorset, for many years.
He said: "I left mates in foreign countries. They didn't used to repatriate them - so you come here to pay your respects."
Mr Cushen said he would always attend the repatriations, whatever the weather.
John Weston, 69, went to Wootton Basset for the first time in July 2009 when the bodies of eight soldiers killed in Afghanistan were repatriated to RAF Lyneham.
He told the BBC he would keep turning out "to pay my respects to the army I was never in".
"They shouldn't be out there in the first place and I hope for the day when nobody else has to come back like this," he said.
"Most of them are very young lads, they join the army and their lives have gone. It's just dreadful."
Debbie Semmens, 47, whose husband is currently serving in the forces, said the new memorial garden could have been better placed.
She said: "Fair enough, they've got a nice a piece of concrete there but to me it should have been coming out of the main gate."
In minutes the crowds had cleared and all that remained was the sounds of the military planes flying overhead.