Betjeman Literary Festival begins in Wantage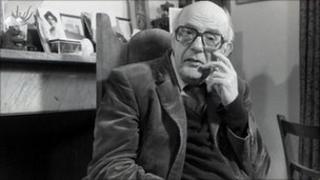 An Oxfordshire town is hoping to capitalise on the legacy of a former poet laureate with its first Betjeman Literary Festival.
Elaine Ware, cabinet member for economic development at the Vale of White Horse District Council, said it would "really put Wantage on the map".
Sir John Betjeman lived in Wantage, Oxfordshire, for several years.
Organisers expect more than 3,000 people to attend the festival, which runs until 17 September.
Events began at 11:00 BST on Sunday with a teddy bears' picnic in Betjeman Park and a book fair at Market Place.
Sir Max Hastings was guest speaker at a literary lunch and a special Songs of Praise at Wantage Parish Church saw the congregation sing Betjeman's favourite hymns.
The festival will include more than 30 events and 20 guest speakers.
They include Colin Tudge, Tim Pears, Alexandra Harris and Pam Ayres.
Wider audience
Ms Ware added: "We are delighted to be supporting the Betjeman Festival.
"There is a fantastic array of events on offer so we hope as many people as possible get involved in both supporting and attending the festival."
Organiser Jim Mitchell said Betjeman's contribution to the area should be celebrated and passed on to a much wider audience.
"It's just to bring John Betjeman to the attention of the people living here because I don't think many young people - apart from the odd lesson in school - have been told about him and know how good he was as a poet," he said.
A number of Betjeman's poems and a children's book, Archie and the Strict Baptists, were said to be inspired by his time in Wantage.
He died in 1984 aged 77.