Banbury drug raids target pubs and clubs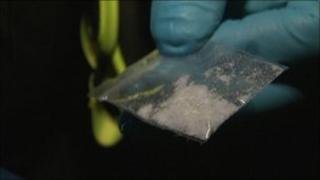 A man was arrested for possession of cocaine and two more had cannabis confiscated when officers searched pubs and clubs in Oxfordshire on Saturday.
The Thames Valley Police operation in Banbury was carried out using a trained sniffer dog.
Ten venues were searched and swabs were taken to check for drugs.
Sgt Bryan Percival said: "I hope that this will discourage people from taking illegal substances and certainly bringing them out at night."
He added: "It makes people aggressive, volatile and all that added together with alcohol is a recipe for disaster."
Remain vigilant
Almost half of the 254 venues in Oxfordshire which have had swabs taken from surfaces since April were graded by the police as either "medium or high".
The results of a swab are graded into four levels. The two highest levels - medium and high can prompt further action against the licensee.
Although no formal enforcement action has taken place as a result of the police's current drug swab enforcement programme but those venues have been told to improve or they could face losing their licence.
Mike Knight from the British Institute of Innkeeping said he completely supported the raids.
He added: "It's something that will never go away so you've got to be vigilant 24 hours a day with it."