New police bike team based in Carterton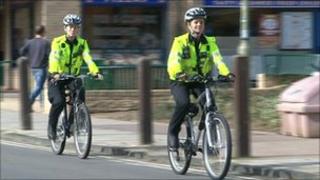 New police bike patrols have taken to the streets of west Oxfordshire.
Thames Valley Police said the hoped the cycling PCs, based in Carterton, would concentrate on anti-social behaviour hotspots.
The team can also be deployed to Witney, Eynsham, Chipping Norton or Woodstock.
Ch Insp Colin Paine said he thought there was "tremendous value" in officers being able to patrol on bikes.
"If someone is up to no good it is possible for officers on bikes to sneak up before they realise what is happening," he added.
It is the third such team in Oxfordshire, joining those in Oxford and the Vale of White Horse.