Chalgrove businesses suffer after being cut off for weeks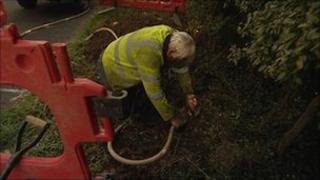 Businesses in an Oxfordshire village say they have lost thousands of pounds since thieves stole copper BT cables on 31 August, leaving them cut off.
BT said on Thursday evening it had completed all works and reconnections to phone networks in the Chalgrove, six days later than originally planned.
Extensive cable damage contributed to delays in fixing the service, BT said.
A garage owner said he lost £5,000 of business due to having no phone or internet connection.
Lee Matthews, who runs Chalgrove Garage, said the internet link was "important" because people used his website to book services.
"We can't take any credit card payments. The workload is not coming in," he said.
'Cut off'
The estimated scrap value of the cables is £20,000.
BT has had nearly 300 faults reported in Chalgrove since the theft on the morning of 31 August.
Ann Pritchard, chairman of Chalgrove Parish Council, said: "The main problem is the post office has been closed, so people who get paid their pensions there couldn't take any money out.
"The pubs and the shops in the village have lost quite a lot of money because nobody could use their debit or credit cards.
"The elderly felt really cut off, because they couldn't call their friends or family."
On Thursday, a BT spokesman said: "As it stands this evening all works and reconnections have been completed.
"We are currently testing a handful of lines which are still showing as faulty."
BT and Crimestoppers are offering a reward of up to £1,000 for anyone supplying information that leads to a conviction for the cable theft.