Witney Cogges Link Road inquiry delayed by high turnout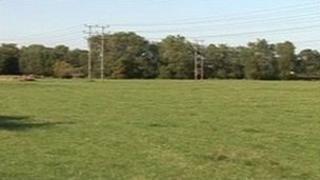 An inquiry into whether a link road can be built through farm land has been delayed because three times more people turned up than expected.
Oxfordshire County Council wants to buy the land to link the east and west of Witney via a second bridge over the River Windrush.
More than 150 people turned up for discussions at Eynsham Hall on Tuesday but only 55 seats were available.
Organisers aim to relocate to Witney's Methodist Church Hall on Thursday.
Those without seats had been offered a second room with an audio feed but refused.
Environmental impact
If the £18m Cogges Link Road scheme goes ahead, farmers would be forced to sell their land.
Campaigners against the road remain unconvinced it would reduce congestion and are worried about the effect on the environment.
But the council told the BBC the new road would reduce traffic and it planned to limit the environmental impact of the new road by extending Witney Country Park east of the Windrush, compensating for the loss of open space to the south.
Rodney Rose said: "It's something that the county council has been working at for 20 years.
"We've spent £2.4m already, getting to where we are with the wildlife.
"West Oxfordshire District Council are totally behind it, they think it's the answer, and Witney Town Council is also of the same mind."
'Bizarre and idiotic'
The county council was granted planning permission for the new road in 2009.
It says congestion on Bridge Street is a regular problem for the town, with 30,000 cars passing through every day.
Cogges Link Road, connecting Witan Way in the centre of the town to Oxford Hill in the east is expected to reduce the problem.
But Steve Fletcher, who lives on Bridge Street, called the scheme "bizarre, idiotic and wasteful of money".
And James Mawle, who owns some of the land needed for the link road, is opposing the compulsory purchase order.
He said two new slip roads on the Shaw's Green junction would solve traffic problems instead.
"We don't need the Cogges Link Road and we're providing an alternative scheme that provides better use of existing infrastructure," he added.
The enquiry is now scheduled to run until Friday 7 October.