Bodies of L/Cpl Jonathan McKinlay and Marine David Fairbrother repatriated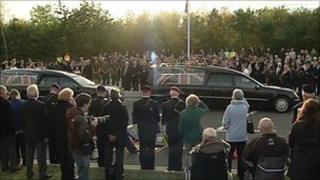 About 1,500 people lined the route of a military repatriation ceremony at RAF Brize Norton in Oxfordshire.
The cortege carried the bodies of two servicemen killed within five days of each other in the Helmand Province of Afghanistan.
Marine David Fairbrother, 24, of Plymouth-based 42 Commando was killed while on patrol on Monday.
L/Cpl Jonathan McKinlay, 33, of Gloucestershire-based 1st Battalion The Rifles, was killed on 14 September.
Both the servicemen were killed by small arms fire in separate incidents while on foot patrols in the Nahr-e Saraj district in support of Afghan units.
Their bodies are the second and third to arrive at the £2.8m purpose-built centre, near Carterton, since repatriations were moved from RAF Lyneham in Wiltshire.
L/Cpl McKinlay from Darlington, County Durham, had been in the Army since 1996 and was described by an MoD spokesman as an "outgoing and friendly commander".
His wife, Lisa said: "He was a loving husband, son, brother, son-in-law and father to Megan, Ollie and Piper.
"He was a true friend to others and a loving husband, a real joker and my one-in-a-million."
'So proud'
Marine Fairbrother from Blackburn, Lancashire, joined the Royal Marines in 2009.
He is said to have "enthusiastically immersed himself in training" and was qualified as a team medic.
His mother Julie said: "I am so proud of the determination you had to become a Royal Marine. You were always fun loving, caring and lived life to the full.
"Not only were you the perfect son but you were my best friend and you will be in my thoughts forever."
BBC reporter Phil Mercer described the mood at the memorial garden as "sombre" as members of the Royal British Legion and the family waited for the procession.
He said residents of Carterton village and military veterans from across the country stood silently and bowed their heads along the roadside to pay their respects to the two fallen soldiers.
Corteges leaving RAF Brize Norton passed through the newly-named Britannia Gate at the base, en route to Oxford's John Radcliffe Hospital.