Chipping Norton's new Sainsbury's plan divides town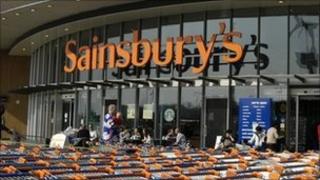 Plans for a Sainsbury's store outside an Oxfordshire market town have divided residents.
The company has submitted a planning application to build a supermarket on the Parker Knoll site outside Chipping Norton.
Objectors are due to meet with Chipping Norton town councillors later.
They have complained the store will increase traffic and affect smaller businesses but Sainsbury's said it would provide greater food choice.
'Cataclysmic change'
West Oxfordshire District Council is due to discuss the proposals for the 30,000sq ft (9,100 sq m) site in October.
Geoff Williams from Stop Chippy's Out of Town Supermarket (Scoots) said: "The problem with a big supermarket is it's a cataclysmic change and Chipping Norton isn't really economically robust.
"It's actually quite a delicate town with a small population and it couldn't cope with such a large supermarket. It would just devastate everything that's already here."
Mr Williams, a retired businessman from the town, said Scoots presently had about 90 members.
But former town councillor Keith Greenwell, who has lived in the town for 12 years, said the supermarket could only bring benefits.
He said: "We don't have a greengrocer, we don't have a fishmonger and we don't have a shop that sells children's clothing.
"I think you've got a group of 'nimbys'. People who have bought houses on the Parker Knoll site clearly do not want a supermarket next to them."
'Minimising overlap'
Sainsbury's has set up a website outlining its proposals and said 50% of residents currently "travel considerable distances to do their main food shop".
It adds: "Only 20% of the store's sales space would be used for small ranges of ancillary, non-food goods that customers can browse when food shopping.
"Furthermore, the store would not offer white goods, a pharmacy, post office nor restaurant, further minimising overlap with the town centre."
It also estimates about 200 local people would benefit from job opportunities.
The public meeting takes place at Chipping Norton town hall on Monday evening.