Cpt Michael Lowry decorated for saving IED triple amputee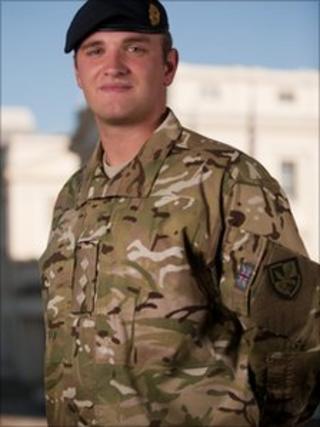 A soldier has described how he helped save a comrade from bleeding to death after he was caught in the blast of an Improvised Explosive Device (IED).
Capt Michael Lowry, 31, based at Dalton Barracks, in Abingdon, Oxfordshire, treated Pte Alex Stringer while under enemy fire in Afghanistan.
Pte Stringer was engulfed in flames and lost his legs and an arm in the blast.
"Everyone involved that day deserves an award," said Capt Lowry, who is to receive a Mention in Dispatches.
It is the oldest form of recognition for gallantry within the UK Armed Forces.
Devastating explosion
The incident took place in January when Capt Lowry, of the Royal Logistic Corps, was conducting a search for IEDs with his team.
Pte Stringer was then caught in a devastating explosion.
Capt Lowry, from Belfast, said: "I remember every second of it.
"For the first few seconds, confusion reigned. There was dust falling and then gunfire started coming in and rocket-propelled grenades started whizzing past our heads.
"He was engulfed in flames and it was a desperate struggle to put them out. Once that was done, we could start giving him medical attention.
"There were three of us and the medic treating and talking to him. I can't take the credit, we all played our part.
"But dealing with this and being fired upon really brought home the reality of what we were facing."
The captain was able to stem the flow of blood by finding the patient's femoral artery.
Pte Stringer was then taken to safety but Cpt Lowry pushed ahead with his team, finding and deactivating two other IEDs.
He added: "I volunteered for the job.
"The way I look at it, someone has to do it. If they don't, people will continue to be killed by IEDs.
"We had a team of seven men and we looked after each other and the bond made life a lot easier."