Oxfordshire's volunteer-run library plan 'impractical'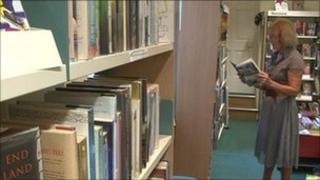 Plans to replace staff at some of Oxfordshire's 43 libraries with volunteers to save money have attracted 3,500 responses.
The Conservative-run county council says it wants to keep all of them open but is proposing to run almost half of them with help from volunteers.
But campaigners say it would be impossible to find enough.
Veral Marshall, of Friends of Burford Library, said: "You can't guarantee the numbers that we would need."
Chair of Save Oxfordshire Libraries, Judith Wardle, said instead of cutting front line librarians the council should be looking at efficiency savings in middle management.
She added: "The other thing we know they should be doing is talking to neighbouring counties because they are looking to save money as well."
'Very careful'
A consultation closed on Friday. It proposed 22 libraries remain fully staffed. But five will need to find volunteers to staff them for 33% of the time and 16 libraries will need volunteers to staff them for 66% of the time.
The authority said it will make a final decision on the future of its libraries in December.
The Liberal Democrat shadow cabinet councillor with a responsibility for Oxfordshire libraries, John Goddard, said he still wanted to know about how the volunteers would be trained and supported.
But added: "We need to be very careful what we wish for because the more that is spent on libraries, the less that is going to be available from the county council for other good causes like elderly social care and youth services."