Water supply cut to homes in Banbury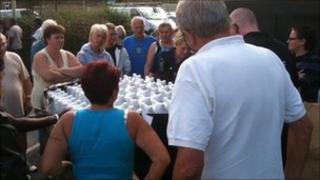 A water company has supplied 68,000 bottles of water to residents of an Oxfordshire town after their taps went dry for more than 24 hours.
But Thames Water says its pumps at the reservoir in Bretch have been fixed.
Jerry White, from the firm, said: "I can only apologise to all our affected customers for the interruption they've had caused to their water supply."
He said services to all 4,000 residents would return "by about 6pm" but urged them not to take too many bottles.
People in the Bretch Hill area of Banbury noticed the low pressure at about 16:00 BST on Sunday.
In all 136,000 litres (29,916 gallons) of water was delivered to 12 locations in 24 hours.
Mr White added: "We will take all the learning from this incident and make sure we put it in place for the future so that we don't have a recurrence and we keep our customers informed throughout."
But resident Anthony Keegan complained that communication from the company had been poor.
He said: "There are still no Thames Water vans with megaphones earmarked to tour the stricken area, in order to update the numerous elderly residents there.
"Most elderly residents live alone and are not computer literate in any case.
"Therefore, the nonsense about looking on their Thames Water website is, in these dire circumstances, totally absurd if not completely disingenuous."
The William Morris School in Bretch Hill was closed to pupils as a result of the water shortages.
Phyllis Ashby, 67, who lives in Wood Green Avenue, lost her water supply on Sunday evening.
She said: "I'm worried about the disabled, which my husband and I are, who can't get up this hill and carry heavy water back."