Oxford Green Party attacks Bonn Square ban two years on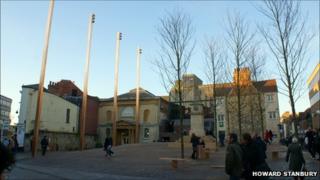 The Oxford Green Party has complained about a ban on spontaneous protest in a former public square, despite rules changing more than two years ago.
The city's Bonn Square was formerly used for public speaking and rallies, but since June 2009 the Labour-run council has banned free assembly.
The Green Party's Craig Simmons said: "Human rights are being undermined."
The council said "peaceful demonstrations and protests" are welcome with the right paperwork.
The Oxford Green Party said the protocol may have been issued two years ago but it has only been "enforced recently".
The council's protocol for Bonn Square states events should fall into one of three categories: arts and cultural, historic or charitable.
It also declares the event organiser should consult with Oxford City Council one month prior to the proposed date, during which time the New Road Baptist Church, which part-owns the square, will also be consulted.
Vice chairman Mr Simmons said: "It is ironic that Bonn Square, which celebrates hard-won post-war freedoms, is now a space where the right of free assembly is banned.
"It's sad given the history. It's tradition in Oxford for people to campaign."
Council spokeswoman Louisa Dean said the Bonn Square protocol was "introduced in 2009 following the major refurbishment of the area".
She added the council and the church agreed that events "should be beneficial to the community and help promote the city through the creative use of the public space".