Wallingford's new water play area plans go on display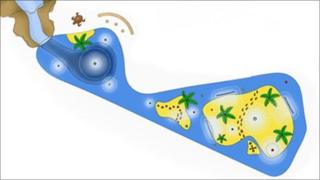 Residents of an Oxfordshire town are being shown plans for a new children's interactive water play area.
Wallingford's old paddling pool at Riverside Park is being replaced by a play area suitable for toddlers through to 12-year-olds.
The project is expected to cost about £180,000.
Oxfordshire County Councillor Bill Service said the paddling pool had been popular but needed a complete overhaul.
"As well as being much safer and more cost-effective than paddling pools, interactive water features are more fun and interesting for children and can help develop problem-solving and teamwork skills," he added.
The feature will have sensors that children can use to activate jets of water in different parts of the play area.
There will also be sluice gates and fountains which the children can control.
Members of the public can comment on the proposal which are being displayed in local leisure centres throughout south Oxfordshire.
They will also be in primary schools in the Wallingford and Crowmarsh Gifford between the 5 and 14 October.
The play area is due to be opened by May next year.