Oxford Iran student's exercise vest sparks terror alert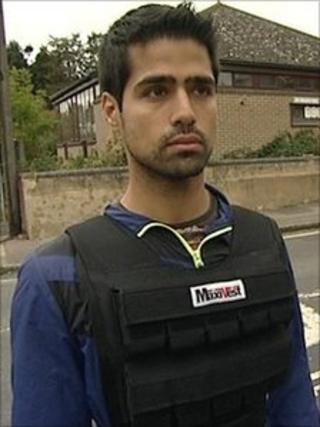 An Oxford University student sparked a terror alert when he wore a weighted vest as part of his exercise regime in the city.
An armed response unit swooped on Goudarz Karimi, 25, after he was mistaken for a suicide bomber.
The Iranian claims an officer told him he should use the vest elsewhere because of his appearance.
Thames Valley Police said it was an appropriate response and the decision was not made on ethnicity alone.
Mr Karimi was walking in Southfield Road on Monday afternoon when he was ordered to put his hands in the air by an armed officer in a bullet-proof vest.
He said: "I made a few steps and he said 'Stop, Stop! Don't move!'. Then he came slowly towards me and tried to take my vest off but it's quite heavy so I had to help him."
'Fear and paranoia'
Mr Karimi claimed after he explained the vest was part of his exercise regime, the officer told him: "You have to imagine what this looks like with someone of your appearance".
"I said 'Sorry, but I'm just doing my work out - why should I adapt my ways because other people are suspicious?'."
Mr Karimi said he was then asked to give the officer his personal details under the Terrorism Act 2006 and was ordered to take his vest off.
"I said the vest is 30 kilos [4st 10lbs] so I'm not going to carry that in my hands all the way home. I said 'You know what, I'll put my jacket over it'."
The student said he believed the mix-up was a result of "fear and paranoia".
'Always blond'
He said: "When he says 'someone of your appearance'... maybe he means my vest, or maybe he refers to the combination of my vest and my skin tone."
"I've seen plenty of pictures of people with weight vests on but of course they're always blond, Caucasian people.
"Maybe it is because I'm wearing jeans... I've never seen a bomb vest but it sure as hell doesn't have Maxivest (written) on it."
Supt Amanda Pearson, of Thames Valley Police, said an armed response unit was sent due to the nature of the call.
Supt Pearson added: "The officers have to weigh up a number of factors to determine if a stop and search is proportionate and justified and the decision to stop and search would not be made on ethnicity alone - and wasn't in this case."