Oxford & Cherwell Valley College in training centres plan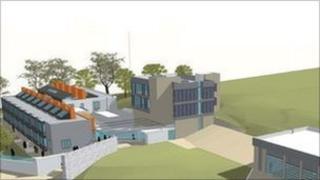 Oxford & Cherwell Valley College (OCVC) has submitted a planning application for two new training centres at its Banbury campus in north Oxfordshire.
The college hopes to build new media and motor vehicle industry buildings next to its school of creative arts.
The £5.5m development would replace older buildings on the Broughton Road campus and will open in 2014/15.
OCVC said the new centres would also offer training and event opportunities for local businesses.
Principal Sally Dicketts said: "Motor vehicle and media are two of our great vocational strengths and play a big part in providing the next generation of employees for north Oxfordshire businesses."
Head of the Motorsport Industry Association Chris Aylett has estimated that motorsport is worth more than £500m a year to the Oxfordshire economy.
The new Mini world rally car is being built by Prodive in Banbury and Virgin Racing recently moved its operation to the town from Yorkshire.