Anna Karenina film seeks Eastern European extras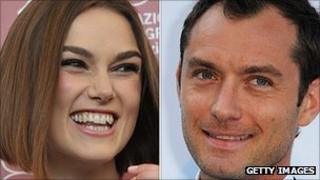 A major Hollywood film is looking for Eastern Europeans to feature as extras in scenes being shot in Oxfordshire.
An adaptation by Russian author Leo Tolstoy's Anna Karenina, starring Keira Knightley and Jude Law, is being shot at the Didcot Railway Centre.
Director Joe Wright said he wanted to use authentic extras in the scenes due to be filmed in November and December.
An open casting will take place on 29 October at the Cowley Road Methodist Church in Oxford.
Wintry scene
Lesley Gogarty, director of The Casting Network, said that even though the roles were non-speaking parts the drive for genuine authenticity was common in the industry.
She said: "It's happening more and more in films, they are asking for real Americans, real Bosnians... just to stand around. They don't say anything."
Extras can earn more than £100 a day and will get free food and drink during the filming but they are expected to start early and require a great deal of patience as there can be lots of waiting on set.
The scenes at the railway centre will include the moment where Anna Karenina, played by Keira Knightley, throws herself under a train.
Special effects will be used to create a wintry scene for the filming.