John Radcliffe and Nuffield Orthopaedic trusts merge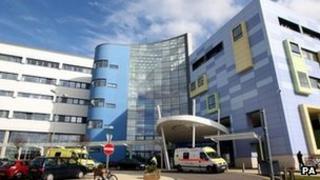 Two of Oxford's hospital trusts have merged, creating one of the country's biggest NHS trusts.
The John Radcliffe Hospital and the Nuffield Orthopaedic Centre will now be run by a single board, the new Oxford University Hospitals NHS Trust.
It will have a joint workforce of more than 11,000 staff.
Some management and administrative jobs will be lost as back office operations are brought together. The trust aims to save £147m over the next three years.
Dame Fiona Caldicott, chairman of the new Oxford University Hospitals NHS Trust, said: "Obviously, we're going to be looking very carefully at how we deliver the services efficiently and to as high a quality, and safety as possible.
"It may be that some of our staff choose, in the new environment, to go and if that's the case we may well be able to avoid redundancies, we hope we can."
University agreement
The unified trust will run the county's four teaching hospitals; the John Radcliffe Hospital, the Churchill Hospital, the Horton General Hospital and the Nuffield Orthopaedic Centre.
They will keep their current names and continue to provide a full range of general and specialist services across the sites.
Sir Jonathan Michael, chief executive of the new trust, said: "Inevitably [the merger] is to do with efficiency, trying to make better use of our resources, better use of our staff, trying to make sure that we are providing around the clock 24-hour, seven day a week service for patients.
"In line with the rest of the NHS, we're going to have to tighten our belt and improve our efficiency."
A new joint working agreement with the University of Oxford also formally came into effect at the point of merger.
Professor Andrew Hamilton, vice-chancellor, said: "The university and the hospitals have long had a close relationship, which the new name for the merged trust reflects.
"We are determined to deliver a true health sciences partnership that provides high-quality healthcare for patients backed by the latest in world-leading medical research."