Woman searches for missing dog after shooting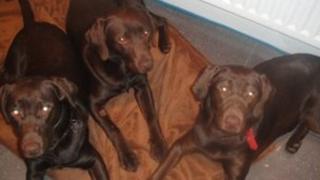 An Oxfordshire family is still searching for their family dog after it fled from intruders during a shooting.
Percy has been sighted four times since the incident last month but has not been tracked down.
Jade Park's other Labrador, Louis, is recovering at her Highmoor home after being shot in the eye and body.
A third Labrador and a puppy were kicked by the intruders, who the family believe were poachers, as their estate attracts deer and pheasants.
Louis may need an eye operation in hospital on Friday.
'Terrible trauma'
Mrs Park said: "The trauma has been terrible."
She said the three chocolate brown Labradors and the four-month-old American bulldog were "wonderful family pets".
Mrs Park said the family's Highmoor garden had become a "haven" for wildlife as none of the family shoot.
"We often wake up and there's 50-odd deer asleep in the estate, we've got more pheasants than any other neighbouring estate," she said.
She said she was offering a "substantial reward" for the recovery of her dog Percy.