Six siblings graduate from Oxford University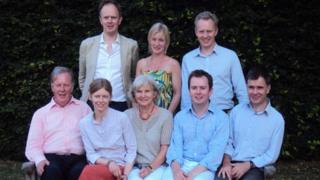 Six brothers and sisters who all attended Oxford University have collected their degrees together on Saturday.
The O'Malley siblings went to five different colleges over an 18-year period.
Charles O'Malley, who attended Oriel from 1986 to 1989 said: "We've been waiting for about 25 years to pick up our degrees".
It is Oxford University tradition to collect degrees at any time.
The first, Mark O'Malley, started at Magdalen in 1982 and the last, Edward O'Malley, finished at New College in 2000.
"We're pretty relaxed," said Charles, the third sibling to attend Oxford.
"My older brother and sister didn't collect their degrees so we thought we'd just hold on.
"I think my parents are very proud".
He said the family believed this was the first time six siblings have collected their degrees together.
An Oxford University spokeswoman said: "We're not aware of it happening before".
The O'Malleys will be holding a family celebration after the ceremony.
Their father and both grandfathers also attended Oxford.
A great-grandfather turned down a place at Oxford to attend Cambridge.