Ardley incinerator delays costs Oxfordshire County Council £15m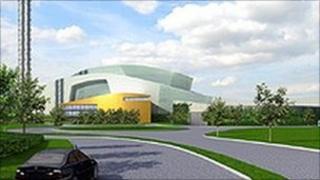 An eight-month delay in building an incinerator in north Oxfordshire is estimated to have cost between £12m and £15m, the council has said.
Building was postponed due to legal challenges mounted by the campaign group Ardley Against the Incinerator.
Lorraine Lindsay-Gale from Oxfordshire County Council said it had to pay landfill tax and ongoing costs to the waste management company Viridor.
But campaigners have disputed the council's figures.
Jonathan O'Neill said: "When you actually press the county council to show you the maths they never quite add up, and they're never quite strictly on the ball with when these targets actually have to be paid."
'Final straw'
The campaigners statutory appeal against government approval of the proposed plant at Ardley, near Bicester, was rejected by the High Court in July.
On Thursday a court of appeal ruled that the campaigners' case could go no further.
Mr O'Neill said: "It was one of the final straws for us.
"We followed the legal line and the legal limits to the letter of the law.
"We followed the process that we are entitled to do just as Viridor did when they appealed the original Oxfordshire County Council planning decision not to grant it some two and a half, three years ago, so the shoe's on the other foot."
In October 2010 councillors gave permission for the plant to be at the site for 35 years with the countryside restored after that period.
Viridor originally said construction work could start the following April.
Ms Lindsay-Gale, who is the cabinet member for growth and infrastructure at the Conservative-run council said: "There is landfill tax that we will have to pay for the three years that it will now take for the incinerator to be built.
"Also there are ongoing costs involved with the contract with Viridor, the company that we are now going into business with to build the incinerator.
"This facility had to be built somewhere in the county.
"I'm all for local democracy but I do believe once you've been through the process and you've lost the argument you should be prepared to accept a democratically-produced decision."
Viridor believes it can turn 300,000 tonnes of waste into electricity every year, diverting at least 95% of the county's non-recyclable household waste away from landfill sites.