Trunk held stories of Oxford during World War I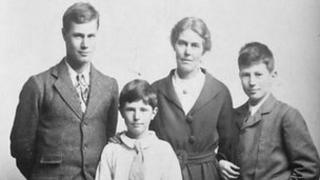 When Margaret Bonfiglioli was given an old suitcase by her aunt she stowed it away in her Oxfordshire home.
She knew it probably contained family correspondence but her busy life meant its contents remained unexplored for about 15 years.
Elsewhere in the house, an old Louis Vuitton chest that belonged to her parents was also gathering dust, being used as an occasional stool on the landing.
It was not until someone offered to buy the chest that Mrs Bonfiglioli discovered it contained hundreds of letters that had been kept by her father.
Some dated back as far as 1912.
She said: "The trunk just sat on the landing, almost being a sort of stool to sit on, and I only opened it in February this year, then I discovered the amazing links of the letters in the trunk with the letters in the suitcase and I discovered the other halves of correspondence."
One of the reasons there were so many letters exchanged between family members was because Mrs Bonfiglioli's grandfather, Gilbert Sullivan, went to India to become professor of economics at the University of Madras - a post he took because Ruskin College, where he was principal, had been shut down during World War I.
During that time, her grandmother, Violet Slater, who was a pacifist, raised three children, including Mrs Bonfiglioli's father Owen, who was conscripted for military duty, aged 17, and sent to France.
In her letters, she described being harassed in the street for handing out pacifist leaflets and being warned she could be arrested.
Mrs Bonfiglioli said: "Oxford was so different during the first world war. You have to imagine Port Meadow as an aerodrome. Soldiers were drilling in the parks.
"The city was full of hospitals and wounded soldiers.
"There was the hardship of heating and the hardship of food shortages... there were huge queues for food."
In a letter to her husband, Violet described a shopping trip with her home help. She wrote: "Edna and I went down last Saturday - I cycled down and got to the Maypole at ten to eight - already there were about 100 people.
"Edna, who walked, got much further back. We got a pound of margarine each and that, with suet, will last about a week.
"Outside, the street was almost full - Liptons on one side and Maypole on the other. Women carrying babies and a long line outside on the road of prams with small children - it was really pathetic as I expect, in the end, some would get nothing - they were eight abreast."
Many of the letters from that period were also sent by her father from France.
Mrs Bonfiglioli said: "In the suitcase I had letters from my father mentioning the names of various girls - in the trunk I found the letters the girls had written to him.
"I was absolutely astonished to find in one of my grandfather's letters, writing to my father, who was only 20, saying: 'I hear about all these girls - if Joyce is the right one for you...' suggesting he should marry her, 'and not worry about money or swanky clothes'.
"Fancy advising a boy of 20 who hasn't yet got a job to marry somebody - I found that quite surprising."
Since she started reading the letters, Mrs Bonfiglioli has given talks about their contents, including her family's personal accounts of the war.
She has only gone through a fraction of the letters - she said there were many more from the 1920s and 30s which she has yet to read.
She now plans to collaborate on a book with writer and war historian James Munson.