Door row threatens Didcot Civic Hall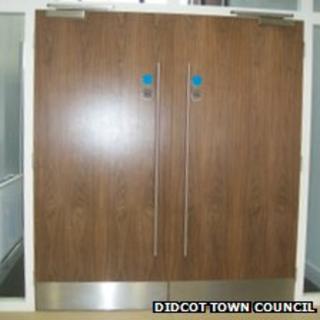 A £1.3m newly-refurbished town hall in Oxfordshire may have to close to the public unless a problem with its doors is resolved.
South Oxfordshire District Council said it cannot sign off Didcot Civic Hall's revamp unless six doors are altered.
Didcot Town Council said surveyors approved the wooden doors and replacements would cost over £4,000.
The district council said four of the doors needed to be see-through to meet health and safety regulations.
It said it approved two sets of clear, glazed entrance doors and the third set which would include a fire safety device linked to the fire alarm.
The current doors are not fitted with this device.
Anna Robinson, strategic director for South Oxfordshire and Vale of White Horse district councils, said: "The doors installed are a hazard to users and must be corrected immediately for the building to remain in public use."
'Red tape'
Currently, the three sets of two 8ft (2.4m) x 3.6ft (1m) internal doors are set in frames which include full-length glass panels at each side.
Mrs Margaret Davies, town council leader, said: "I'm all for health and safety but [South Oxfordshire District Council] seem to have got their red tape in a knot."
Mrs Davies said the doors have to be specially sound and fire proofed, which is why replacing them would cost £4,173.
She added that the town council had not been offered any money from the district council to make the required changes, despite having formally requested compensation.
Ms Robinson said replacement doors were not required.
"Our surveyor pointed out the problem of the wrong doors while the contractor was still on site and he suggested a solution that would have cost a few hundred pounds," she said.
"The town council chose not to act on it."
The town council said it knew nothing of the recommendation.
The refurbished civic hall was opened in September by Didcot Town Council, despite warnings about the hazards of the entrance doors, according to the district council.
The town council said it was not informed of the risks prior to opening the hall.