Oxfordshire girl Emily Duffy wins award for eggs business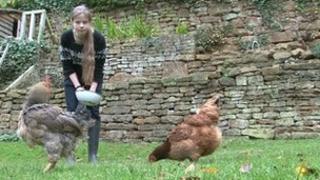 Despite having her fledgling business decimated by a fox an Oxfordshire girl has rebuilt her egg selling enterprise and picked up an award.
Emily Duffy has kept chickens at her home, in Alkerton near Banbury, since she was four.
But last summer, a glut of eggs led her to start selling them to neighbours.
This month, she was rewarded for her efforts by winning the 2011 Young Entrepreneur of the Year at the Banbury Women in Business Awards.
The prize comes after a fox had broke into Emily's garden and killed all but two of her chickens.
'Quite entrepreneurial'
On going into business, Emily said: "We had loads of spare eggs and we just thought we better get rid of them because we couldn't use them ourselves."
She gave the first batches away with a little note explaining where people could get more.
The budding entrepreneur then soon had a number of regular customers in the village, leading to her neighbour, Claire Dumbreck, to nominate her for the award.
"Although she's only 12 she learnt all the principles of business that she's going to need later on in life," said Ms Dumbreck.
Although Emily was left upset by the loss of her animals she reinvested and was soon back in business.
Her father, Chris Duffy, said: "She's done an awful lot of it on her own. She's been quite entrepreneurial about it."
The success has inspired Emily to expand her business and one day she hopes to establish a chicken farm.