Oxfordshire libraries 'might keep more paid staff'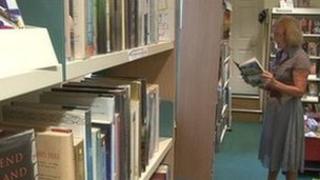 Fewer library staff in Oxfordshire could lose their jobs after the county council said it was reconsidering its plans following a consultation.
The Conservative-run authority said it wanted to keep its 43 libraries open but run almost half of them with help from volunteers.
Sixteen libraries could now have volunteer staffing for 50% of the time instead of 66% of the time.
The council said it could not say how many jobs might be saved.
The consultation on the council's plans attracted 5,000 responses.
Twenty-two libraries will remain fully staffed by council employees while another five, called Community Plus libraries, will be staffed with two thirds council staff and one third volunteers.
Veral Marshall, of Friends of Burford Library, which is one of the libraries which could be staffed by volunteers, said: "This is a slight improvement, but I still think it's going to be difficult to fill our quota of volunteers.
"A lot of people living here run businesses, or they are retired and are already doing a lot with other charities."
Councillor David Robertson, deputy leader of Oxfordshire County Council, said: "We listened to the consultation and made changes.
"We will also review the situation every four years where there are new developments planned which could mean more families will be moving to the area."
He said the council hoped to introduce more self-service points in libraries and bring in innovations such as wi-fi networks and e-books to encourage more people to use the council's services.