Wallingford's archaeological dig at mid-point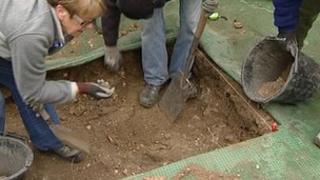 Amateur archaeologists have reached the halfway point in a project to chart the 1,200 year history of an Oxfordshire town.
Volunteers are attempting to dig 100 pits in gardens across Wallingford.
Project leader Gerard Latham said: "Everybody's very enthusiastic and it has almost become a status symbol to have your garden done over."
The team have taken three years to reach the 50th excavation which is in the courtyard of the town's museum.
Alfred The Great
The Burh to Borough project was started by professionals at the University of Leicester.
They enlisted the help of The Wallingford and Archaeological Society.
The group now carry out most of the digs themselves with occasional supervision.
The information has allowed them to build a database to show how the settlement has changed since the burh (Old English for a fortified town) was established by Alfred The Great.
"The best finds we had were in pit seven," said Mr Latham. "It was in the High Street about a metre down, we found a mortar floor and above that were lots of pieces of ecclesiastical pottery."
The pottery is now exhibited in the Wallingford Museum which reopens after the winter break on 1 March 2012.
But visitors can see the dig taking place until 16:30 GMT on 4 December.