Blessing Force: Upstairs Oxford at the O2 Academy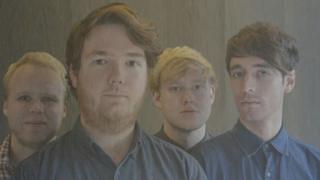 The final Upstairs Oxford gig of the year sees BBC Introducing team up with Blessing Force, the Oxford music collective that has made headlines throughout 2011.
Oxford bands Jonquil and Pet Moon will top the bill at the O2 Academy on Saturday 17 December, with Sisterland and Motherhood providing support.
Jonquil's Sam Scott said: "People can expect great sets from great live bands, some of which are from out of town, and what will hopefully be a warm and joyous homecoming show for Jonquil, in a year when we've played almost entirely outside of the UK."
Pet Moon, aka former Youthmovies frontman Andrew Mears, added: "We'll be able to put a human aspect into the O2 which I think those kind of venues miss.
"It'll have our usual extra attention to how the show feels and looks, so hopefully we'll get some way toward managing to make it a quite different environment."
'Creative avenue'
Blessing Force has made an indelible impact on the Oxford music scene since its beginnings in late 2010.
Under the stewardship of Yannis Philippakis of Mercury Prize-nominees Foals, several new bands appeared to spring up in the city overnight.
NME's coverage of bands like Trophy Wife, Rhosyn, Solid Gold Dragons, Fixers and Chad Valley arguably led to the brightest spotlight on the Oxford scene since Radio 1's Sound City in 1997.
Blessing Force also made its name through a series of events, with a meshing of art, music and the spoken word, and by October 2011 released its first EP under its own label in the form of Trophy Wife's Bruxism.
Its second release is a forthcoming cassette EP from Sisterland.
But in truth much of the talent involved had long been part of the city's scene.
Solid Gold Dragons and Chad Valley are the side projects of Sam Scott and Hugo Manuel from Jonquil.
"It gives us a creative avenue for the particulars and differences in our taste and that is certainly something that has helped to make the new Jonquil album more focused and coherent," Sam explained.
'Back to basics'
Jonquil played their first gigs in the US in 2011, including SXSW, and their third album, billed as their first album 'proper', will be released in February.
Sam, bass player and trumpeter with Jonquil, said: "We're still proud of both previous albums, but Point Of Go is just very different.
"We don't plan to play old songs in our live shows anymore and prefer to think of the old material as a nice bonus that new fans might discover.
"Other reasons are that it's the first album of the current line up, with a fresh new sound and outlook, and the first album released in the USA."
Jonquil's original six members have been slimmed down to a punchy foursome, with ex-bandmates Jody Prewett and Kit Monteith forming the nucleus of Trophy Wife.
Sam added: "With six of us we would often fight for space when writing.
"All of us wanted to have our own ideas audible and the resultant songs were often cluttered.
"We had all been in a band for so long together that we could second guess each other's musical processes.
"The line up change helped us strip the writing process back to basics, and adding Dom [Hand] meant that Robin [McDiarmid], Hugo and I not only felt the benefits of a fresh brain of ideas in the songs but it helped refresh the whole process of playing with one another and highlighted the great communication and intuition that we share."
'Camp and paranoid'
Pet Moon's Andrew Mears said his biggest influences were Bjork, Prince, and Tears for Fears.
He added: "That's not to say I think that Pet Moon sounds like them. I don't think it does, but there might be sensibilities in common there.
"I guess they're theatrical, camp, paranoid R'n'B power ballads. I think there's a lot of my childhood in there.
"I wouldn't say that it's straight up 80s though. I'd like to think it's kind of forward thinking - but then, of course I would.
"To me it's pop music, but then everyone tells me it's really dark and uncomfortable, so what do I know?"
Proceeding to describe the remaining two acts on the bill, Andrew said: "Sisterland came out of the ashes of a band that people may have seen in Oxford a few times, Tired Irie.
"They're a fuzzed out, bass-heavy three-piece from Leicester. They remind me of Sonic Youth at their most accessible. I also hear elements of Best Coast and Pixies.
"They're super-nostalgic whilst still feeling as though they have their eyes on what's next.
"Motherhood is Joe [Robinson] from Eskimo Hoax's new endeavour. It's delicate, smooth and R'n'B inflected, with really nice cut up organic sounds.
"For some reason every time I hear him it brings to mind Michael Jackson's Human Nature, which is one of my favourite Michael Jackson songs.
"Motherhood's one of my most listened to things at the minute. It has a delicacy to it that I'm not seeing in many other places at the moment."
The Blessing Force takeover of Upstairs at the O2 Academy will also feature a multimedia art exhibition from Amy Honour, Charlotte Freeston, Tinhead and Valeska Hykel.
The highlights will feature on BBC Radio Oxford's Introducing programme.