Delays at Oxford's John Radcliffe Hospital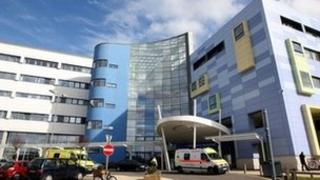 An Oxford hospital has admitted causing patient appointment delays after a new IT system was installed.
One 11-year-old boy waited four hours to have his broken ankle x-rayed and his cast removed before leaving the John Radcliffe Hospital without being seen.
Oxford University Hospitals NHS Trust said the new computer system slowed staff from inputting patients' details.
As a goodwill gesture, the hospital suspended parking charges.
'In tears'
Barry Clack was visiting the hospital with his 11-year-old son George on Monday.
His son had a 14:00 GMT appointment which had to be cancelled after waiting all afternoon.
"You don't expect a 60 minute appointment to take four hours," said Mr Clack.
"My wife said there was a woman who arrived at half past eight in the morning and wasn't seen until six in the evening.
"She was in tears because she needed to pick up her daughter from school."
A spokeswoman from Oxford Hospitals NHS Trust admitted "patients will have experienced a longer wait than we would wish".
She added: "We are extremely grateful for the patience and understanding people have shown.
"We are positive about the benefits the new system will bring to the organisation."